Big changes with Apple computers are rare. After the company introduces a new Mac, for several years only internal components are updated in it, and the case and a set of external interfaces remain unchanged. Due to this, users can migrate to more powerful hardware, keeping the usual workflow and peripheral equipment.
Previous reform of the MacBook Pro line – changing laptops in a "thick" unibody-body on a model with a Retina screen four years ago – also went pretty painlessly. To make the computer thinner, Apple had to sacrifice basically just the obsolete or redundant technologies in the mobile device – optical drive, FireWire ports, infrared sensor, etc. Then the MacBook Pro with Retina display went through several iterations of the hardware platform, and although 15 Inch version missed the output of Intel processors on the Broadwell core, the 2015 models still do not lack performance and capabilities.
However, in the past after the previous upgrade, a whole queue of hardware components lined up that could supplement the new version of the machine. The CPU on the Skylake core is the first item on this list, but no less important is the appearance of discrete GPUs built using the 14-16 nm process technology and the Thunderbolt bus with the USB Type-C connector, which claims to completely replace all existing peripheral connection standards.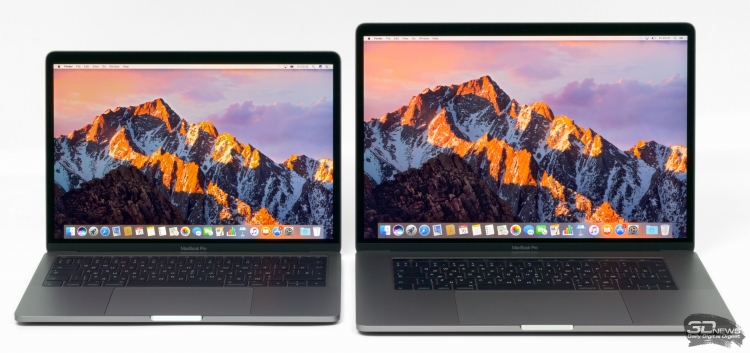 However, Apple remained aloof from some of the trends that dominated notebooks in recent years, in the first place – convertible form factors and touch-screens. In addition, although the MacBook Pro is considered a fairly thin and light machine for a laptop with a two-quad core processor i5 / 7, rivals have already beaten records of Apple in this discipline.
That after the upgrade of 2015 the computer is threatened with a complete change of design, one could judge by the 12-inch ultracompact MacBook . But Apple has gone further than anyone who could not guess the secrets of development could have guessed. Some ideas embodied in the new MacBook Pro look bold and prudent, but at the same time controversial and even outrageous in the eyes of the conservative party of users. Let's find out what happened and why Apple did it anyway.
⇡ # Technical Specifications: CPU, GPU, SSD
MacBook Pro 2016 is available in three versions: models with a diagonal screen 13.3 and 15.4 inches, with a full set of innovations, including the Touch Bar, which replaced a number of function keys (we will pay attention to it later), and a special 13 -inch version, devoid of the Touch Bar and simplified in some other respects.
MBP with Retina display of the previous generation are available at the former prices (from $ 1,299 and $ 1,999 for 13 and 15 inches), but are limited in the configuration of components, namely – there are no more options with a discrete GPU. The old MacBook Pro without a high-resolution screen, Apple withdrew from production.
At the same time, the updated line has higher prices, taking into account how the components of the basic MacBook Pro assemblies differ in the audits of 2015 and 2016. The 13-inch MacBook Pro in the minimum configuration received a 256 GB SSD and costs $ 1,499, and a 15-inch discrete GPU costs $ 2,399. Thus, the MacBook Pro did not rise in price, as it may seem at first glance, just in the basic configuration An upgrade of SSD or GPU, for which it would have been necessary to make such a difference – $ 200 and $ 300. At the same time, the new component architecture, chassis design, etc., are relied upon by the buyer at no additional cost, as gifts of progress.
Manufacturer
Apple
The model
Apple MacBook Pro 13.3 ", Late 2016
Apple MacBook Pro 15.4 ", Late 2016
Function keys (MacBook Pro 13,1)
Touch Bar (MacBook Pro 13.2)
Touch Bar (MacBook Pro 13.3)
The display
13.3 inches, 2560 × 1400, IPS
15.4 inches, 2880 × 1800, IPS
CPU

Intel Core i5-6360U (2 cores, 2.0-3.1 GHz);

Intel Core i7-6660U (2 cores, 2.4-3.4 GHz)

Intel Core i5-6267U (2 cores, 2.9-3.3 GHz);

Intel Core i5-6287U (2 cores, 3.1-3.5 GHz);

Intel Core i7-6567U (2 cores, 3.3-3.6 GHz)

Intel Core i7-6700HQ (4 cores, 2.6-3.5 GHz);

Intel Core i7-6820HQ (4 cores, 2.7-3.6 GHz);

Intel Core i7-6920HQ (4 cores, 2.9-3.8 GHz)

Chipset
Intel PCH-LP on the substrate of the CPU
Intel PCH-H
Operative memory
LPDDR3 SDRAM, 1866 MHz, 2 channels, 8/16 GB
LPDDR3 SDRAM, 2133 MHz, 2 channels, 8/16 GB
LPDDR3 SDRAM, 2133 MHz, 2 channels, 16 GB
GPU
Intel Iris Graphics 540 (48 execution units)

Intel Iris Graphics 540 (48 execution units);

Intel Iris Graphics 550 (48 execution units)

Intel HD Graphics 530 (24 execution units);

AMD Radeon Pro 450 (640 stream processors, 2 GB GDDR5 SDRAM);

AMD Radeon Pro 455 (768 stream processors, 2 GB GDDR5 SDRAM);

AMD Radeon Pro 460 (1024 stream processors, 4 GB of GDDR5 SDRAM)

The accumulator
Apple AP **** J (PCIe 3.0 x4, 256/512/1024 GB)
Apple SM **** L (PCIe 3.0 x4, 256/512/1024 GB)
Apple SM **** L (PCIe 3.0 x4, 256/512/1024/2048 GB)
I / O Ports

2 × Thunderbolt 3 / DisplayPort 1.2 / USB 3.1 Gen 2 (Type-C);

1 × TRS 3.5 mm (mini-jack) – speakers / microphone

4 × Thunderbolt 3 / DisplayPort 1.2 / USB 3.1 Gen 2 (Type-C);

1 × TRS 3.5 mm (mini-jack) – speakers / microphone

4 × Thunderbolt 3 / DisplayPort 1.2 / USB 3.1 Gen 2 (Type-C);

1 × TRS 3.5 mm (mini-jack) – speakers / microphone

Network

Universal Scientific Industrial 339S025:

IEEE 802.11a / b / g / n / ac (MIMO 2 × 2);

Bluetooth 4.2

Murata / Apple 339S00056:

IEEE 802.11a / b / g / n / ac (MIMO 3 × 3);

Bluetooth 4.2

The capacity of the battery, W
54.5
49.2
76.0
Weight, kg
1.37
1.83
Overall dimensions (L × H × D), cm
30.41 × 21.24 × 1.49
34.93 × 24.07 × 1.55
Operating system
MacOS 10.12 (Sierra)
Warranty period, years
2
Retail price (USA, excluding tax), $ *
From 1 499
From 1 799
From 2 399
Retail price (Russia), rubles **
From 116,990
From 137,990
From 179 990
* According to apple.com on the 23rd of January, 2012.
** According to apple.ru on January 23, 2017.
The Touch Bar models of both sizes are equipped with processors with the Skylake core operating at higher frequencies compared to similar positions based on Broadwell and Haswell in the past MacBook Pro. In the 13-inch Mac, the three available CPU options have a base frequency of 200 MHz above Broadwell with the 28 TW remaining unchanged. The 15-inch model has benefitted from the upgrade more – the two older modifications have only increased the frequency by 200 and 100 MHz, but at the same time – by as much as 400 MHz for the younger one, and the TDP chips even slightly decreased (45 instead of 47 W). However, quad-core Skylake has less delta between base and peak frequency achievable with a single-threaded load, compared to Haswell chips (900 and 1200 MHz respectively).
But the choice of CPU for the "budget" 13-inch model is more like the MacBook Air, rather than the MacBook Pro, if you judge them by TDP (15 W) and base frequencies (2.0 and 2.4 GHz). However, in single-threaded mode, they can reach no less frequencies than the previous Broadwell, and are not significantly inferior to those available in the Force Touch model. The limited thermal package imposes restrictions, mainly on the joint load of the x86 cores and the built-in GPU.
Chip Skylake did not cause an ovation in his desktop hypostasis, because the performance gain on the clock in comparison with Broadwell in most scenarios is modest. However, some universal changes made to the core x86 Skylake, are important for mobile PCs in general and "Mac" in particular. This is more efficient work of Hyper-Threading (useful for processors with a small number of cores) and acceleration by 17-33% of the AES operations that are used by Macintosh in the VOLVault encryption program.
In the rest, the processor was designed primarily for mobile devices and includes a number of energy-saving technologies implemented at various levels, starting with fine power gating and ending with the integrated clock and voltage control logic in the CPU – Speed Shift. Provided that the operating system is ready to disassociate these functions (MacOS is able to do this, starting with the El Capitan version), transitions across a table containing P-state pairs occur faster (1 ms instead of 20-30 Ms) and more accurate gradations.
According to Intel, using Speed ​​Shift, the processor reaches a peak frequency from the energy-saving state in 35 ms, while under OS control it would take 100 ms. Low latency in this case is used to quickly perform work at high frequency and voltage values ​​and return power to the initial level.
A major contribution to the energy efficiency of mobile Skylake was made by the redesigned uncore-segment of the chip. The integrated graphics of the ninth generation, according to Intel, has a 34-41% faster performance than that of Broadwell (data for the two younger versions of silicon – Skylake-Y and Skylake-U), which was confirmed in our test of the second version MacBook with a 12-inch screen . The fixed functionality media block in Skylake can decode video formats HEVC and VP9, ​​and also encode HEVC with 8-bit color (10-bit color with GPU), while at the same time saving energy more economically.
Moreover, the processors selected for the 13-inch MacBook Pro carry a discrete 64-bit Crystal Well cache chip designed specifically for accelerating the performance of the embedded GPU, otherwise limited by the bandwidth of the RAM (although And in a number of problems not related to graphics, the additional level of the cache itself manifests itself.)
By the way, the new MacBook Pro uses LPDDR3 memory, not LPDDR4, because Skylake, according to Intel specifications, is not compatible with the low-voltage version of DDR4. But Apple simply increased the frequencies in laptops with Force Touch to the level of DDR4, in addition to the formal limitation of Intel for these CPUs.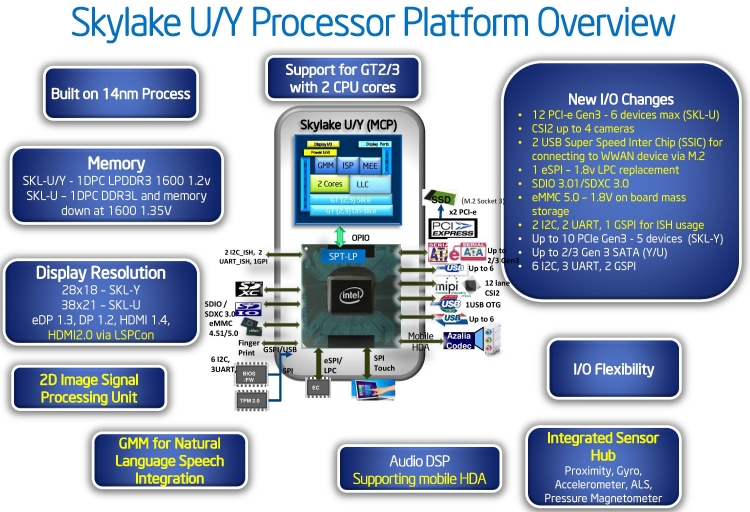 All modifications of the 15-inch MacBook Pro, including the younger one, are deprived of Crystal Well chips, but in return they received discrete GPUs from the AMD family of Polaris. Three available options – Radeon Pro 450, 455 and 460 – are built on a Polaris 11 chip and differ in the number of activated shader ALUs. AMD was the supplier of discrete GPUs for last year's MacBook Pro despite a more profitable alternative to NVIDIA's performance per watt, but now Apple simply had no other choice, because NVIDIA has not yet released the Pascal chip in the appropriate power category.
Three Radeon Pro options for reference specifications have a speed in FP32 calculations of 1, 1.3 and 1.8 TFLOPS, respectively. For a top-end chip this is a huge increase compared to the Radeon R9 M370X (1,024 TFLOPS) in the MacBook Pro in 2015, with the TDP graphics core dropping from 45 to 35 watts. Another advantage of Polaris is that GlobalFoundries uses plates with a thickness of 0.38 mm, unlike the 0.78 mm plates that AMD previously received from TSMC. In addition, the Radeon Pro brand means that its drivers are certified and optimized for basic design and design applications. More details about the architecture of the Polaris chips we wrote in the review Radeon RX 480 and specifically about Polaris 11 – in the article about Radeon RX 460 .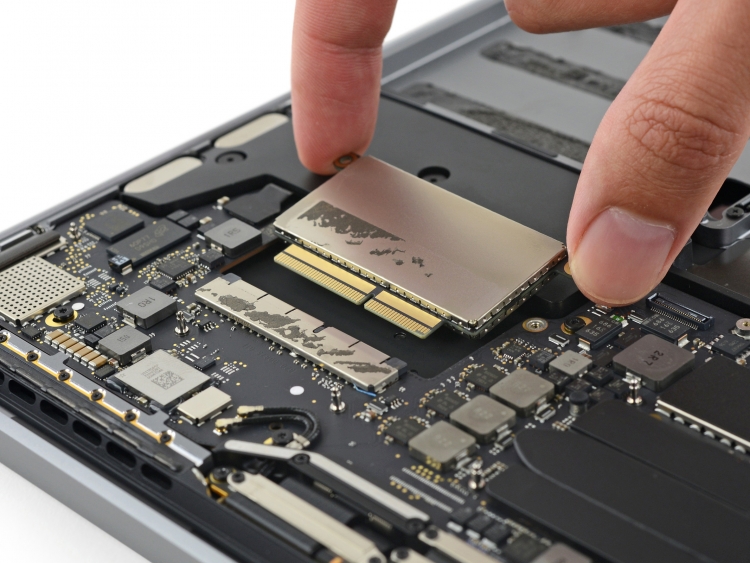 The models with Touch Bar have new SSDs installed on the Samsung controller. Judging by performance measurements, we are unlikely to make the mistake of recognizing a chip called Polaris, which is also used in Samsung SSD 960 PRO and 960 EVO . In the "budget" MacBook Pro – the same SSD, as in the 12-inch MacBook, for it Apple created its own controller. But, unlike the ultra-compact "Mac", here the SSD is connected to the chipset by four lines of the system bus. The drives work on the NVMe protocol and, thanks to the updated chipset (PCH) on the Skylake substrate, enjoy the increased bandwidth of PCI Express 3.0.
By the way, the MacBook Pro with function keys is the only model of the triple that allows to dismantle SSD, although Apple again changed the form factor of the drive, so third-party manufacturers will need some time to adapt. The new removable SSD has a wider contact pad with petals on one side, but we can assume that Apple would not develop a new form factor for a single device, and in the future we'll see it in other Macs, and in combination with eight lines PCI Express, which will pass on both sides of the connector.
In the other two notebooks, the memory and controller chips are soldered directly to the motherboard, so the volume of SSDs to be purchased should be selected for future use.
⇡ # Communications
All digital ports for connecting the peripherals of Apple replaced with USB Type-C connectors that can transmit the signal of the Thunderbolt 3, USB 3.1 Gen 2 or DisplayPort 1.2 interfaces – depending on the type of devices on the other end of the wire. Note that even with a discrete GPU Polaris 11 that supports DisplayPort 1.3 / 1.4 interfaces, the computer is limited to DisplayPort 1.2 functionality due to the fact that the signal commutes the graphics core of Intel. Nevertheless, Mac can output images with resolution up to 5120 × 2880 and a frequency of 60 Hz via two channels of DP 1.2 (MST) via one cable.
The models with the Touch Bar carry two Intel JHL6540 (Alpine Ridge) controllers, each of which serves the Thunderbolt 3 ports on its side of the case and can use up to four PCI Express 3.0 lines. However, the dual-core chip Skylake-U has only 12 lines of PCI Express 3.0, four of which are spent on SSD and two on a Wi-Fi card. As a result, in the 13-inch Mac, three PCI-Express lines are connected to the ports of the Thunderbolt 3 on the left side of the case, and on the right side there are two lines, and only one port from the right pair can operate at a maximum speed of 40 Gbit / S (twice the second version of Thunderbolt).
The 15-inch screen has 16 lines of the system bus and is free from this restriction, as is the "budget" MacBook Pro with function keys, in which there are only two USB Type-C connectors, and both are full-speed.
Thunderbolt 3 is a flexible standard that provides not only enormous bandwidth, but also the ability to connect up to six devices to one port in a chain, among which there can be a monitor that is only familiar with DisplayPort 1.2, but not Thunderbolt , That it is at the end of the chain, and the links nearest to the host controller support the transmission of the video signal). In addition, the new MacBook Pro allows you to connect more devices with a USB interface than the old, which had only two such ports.
USB Type-C is also used for power supply – both the laptop itself (the connectors are designed for power up to 100 W), and peripherals. Each pair of connectors can power one device with a power of 15 watts or two at 7.5 watts.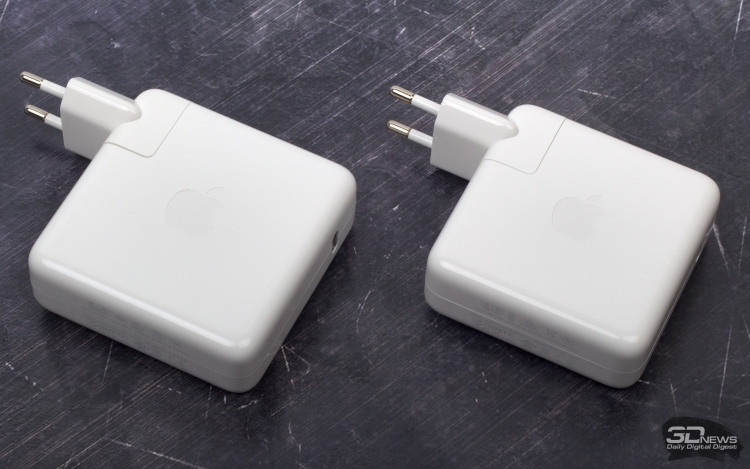 Replacing all digital ports with a convenient, compact and universal USB Type-C standard is an absolutely justified solution from a technical point of view. In addition, the example of Apple will help the wider distribution of both the connector itself and the Thunderbolt 3 interface, which already looks more tenacious than its predecessors – due to the common form factor with USB 3.1 and the possibility to use inexpensive passive cables that did not have Thunderbolt previous versions.
Alas, the picture of the future in the representation of Apple and the developers of external interfaces looks attractive, but here and now the idea spoils the almost inevitable use of various adapters, primarily for connecting flash drives, external HDD and other peripherals with USB Type-A connectors. In addition, Apple decided to part with the formerly integral feature of mobile "Macs" – a magnetic power connector MagSafe. Instead of a light-emitting diode on the plug, a sound signal is now sounding on the plug, but to drop the laptop on the floor, if you step on the cable, there's nothing to stop (the benefit that third-party manufacturers have already released a replacement as a disconnected cable). To the good or to the bad, but Apple lives by the principle of "all or nothing": if the laptop can be charged via USB Type-C, MagSafe is no longer needed.
It's harder to justify the lack of a card reader, especially given that the MacBook is positioned as a working machine, in particular – for editing photo and video content. The replacement of the lost slot will now require money (in the previous "Macs" there was a high-speed card reader with a USB 3.0 bus, the analogues of which are separately expensive), and an additional accessory with its own cable.
The mini-jack connector for acoustics or headset, in spite of the worst expectations, survived, although it is no longer compatible with the TOSLINK interface, the presence of which in the past models many probably did not know.

The wireless functions of the MacBook Pro with the Touch Bar have not changed. Компьютер по-прежнему поддерживает протокол IEEE 802.11ac с пиковой пропускной способностью 1300 Мбит/с. «Мак» с функциональными клавишами, напротив, потерял один канал Wi-Fi и ограничен скоростью 866 Мбит/с.
⇡#Аккумулятор
Отказ от крупных разъемов позволил сделать корпус ноутбука заметно тоньше: на 3,1 мм в 13-дюймовых моделях и на 2,5 в 15-дюймовой (в прошлом поколении высота была одинаковой — 18 мм). Уменьшились и горизонтальные габариты. К сожалению, от этого пострадал объем аккумулятора, который снизился на 34% в 13-дюймовом MacBook Pro с Touch Bar и на 24% в 15-дюймовом. «Бюджетной» версии вновь повезло: в ней установлена на 11% более емкая батарея относительно таковой в модели с Touch Bar.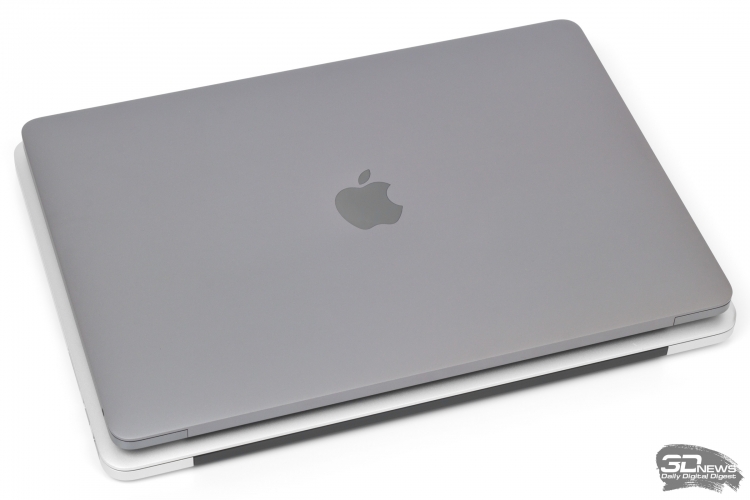 Время автономной работы — еще одна вещь, помимо щекотливой ситуации с разъемами, которая волнует в новых «Маках». Действительно, по данным Apple, 13-дюймовые MacBook Pro по сравнению со своими предшественниками потеряли два часа во времени просмотра видео, а 15-дюймовые — час просмотра видео, а также час просмотра веб-страниц. По абсолютным значениям ноутбуки рассчитаны на 10 часов работы в обоих сценариях при небольшой яркости экрана (около 150 кд/м2).
Судя по тестам предыдущих «Маков», оценки Apple обычно соответствуют реальности, и на примере 12-дюймовых MacBook заметно, что оптимизации Skylake отчасти компенсируют уменьшение емкости аккумулятора в сценарии, когда CPU вносит большой вклад в мощность системы, но не столь эффективны, если процессор практически простаивает, а главным потребителем становится экран.
В первое время после выхода MacBook Pro собрал неутешительные отзывы по времени автономной работы. У части ранних покупателей ноутбук работал на одном заряде намного меньше положенного либо пробег менялся в широких пределах от случая к случаю. Мы тоже столкнулись с подобным поведением 15-дюймовой модели, но проблема, так официально и не признанная, решилась обновлением MacOS до версии 10.12.2.
⇡#Внешний вид, клавиатура
Разница в размерах между старыми и новыми «Маками» лучше всего заметна не по толщине, а по объему. MacBook Pro 2016 года, в зависимости от модели, занимает на 18–22% меньше места, чем прежде. Фактически новая «пятнашка» лишь на 5% крупнее старой «тринашки». Кроме того, оба ноутбука стали легче на 210 г, что опять-таки больше играет на руку 15-дюймовой версии, нежели и без того достаточно легкой 13-дюймовой.
В целом новый MacBook Pro скроен по лекалам предыдущего поколения, однако в деталях заметны черты ультракомпактного «Мака» 2015–2016 годов. Помимо стандартного серебристого, компьютер поставляется в цвете Space Gray. Золотой и розовый, видимо, сочли неуместными для преимущественно рабочего компьютера.
Экран с нижней панелью соединяет точно такая же узкая петля, как в 12-дюймовом MacBook, задняя половина которой сделана из металла, так что в закрытом состоянии ноутбук не показывает пластиковых частей. Светящееся окошко в виде яблока на обратной стороне экрана также заменили непрозрачной полированной вставкой — видимо, из аморфного металла, более устойчивого к царапинам, чем кристаллический алюминиевый сплав корпуса.
Экранная панель больше не покрыта стеклом полностью, как это было раньше. Наоборот, промежуток под экраном заняла пластиковая пластина. Судя по тому, что антенный блок находится в другой половине корпуса, это решение — чисто эстетическое.
Как в 13-, так и в 15-дюймовой версии MacBook Pro по бокам от клавиатуры есть перфорированные участки для вывода звука. Впрочем, как мы увидим далее, только в двух из трех модификаций, представленных Apple, они используются по назначению, а не просто для красоты.
MacBook Pro полностью копирует клавиатуру 12-дюймового «Мака» с ее широкими и почти плоскими клавишами. Они имеют очень короткий ход и стабильны в плоскости благодаря новому механизму-бабочке. Каждая клавиша подсвечивается индивидуальным светодиодом.
Apple увеличила тачпад на 50% в 13-дюймовых MacBook Pro и в два раза (!) — в 15-дюймовом. Но главная новость — чувствительная к прикосновениям OLED-панель, заменившая верхний ряд клавиш. Тем самым Apple присоединились к Microsoft и ее партнерам, убежденным в том, что у мобильного компьютера непременно должен быть чувствительный экран. Однако разработчики MacBook Pro руководствовались иными мотивами.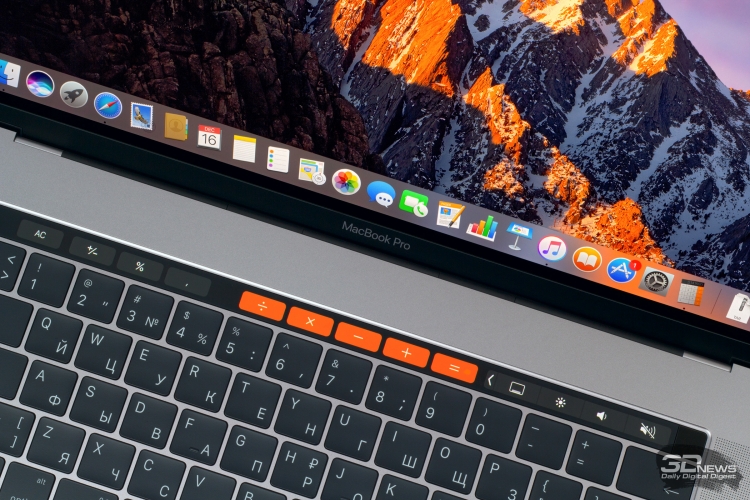 Функциональные клавиши используются намного реже остальных, и в ноутбуках их роль по большей части сводится к регулированию громкости, яркости экрана и пр., что довольно расточительно с точки зрения ограниченной площади клавиатуры. Напротив, изначальный смысл функциональных клавиш был в том, чтобы их назначение менялось в зависимости от активного приложения. По такому принципу работает и Touch Bar.

Когда окно какого-либо приложения не активно, Touch Bar дублирует верхний ряд клавиш предыдущих «Маков». В противном случае открывается палитра команд, специфичных для конкретной программы (которую можно свернуть, чтобы вернуться к универсальным функциям). Приложения, встроенные в MacOS, уже обладают поддержкой Touch Bar, а для разработчиков стороннего ПО есть API. В Windows Touch Bar тоже работает после установки драйвера, но только как замена функциональных клавиш.
Увы, как бы хороша ни была идея Touch Bar, это еще одна особенность MacBook Pro, которая разделила публику на два лагеря. И неспроста, ведь только физическими клавишами можно пользоваться на ощупь. Зависимость от контекста приложений означает, что некоторые тривиальные действия (к примеру, быстро выключить звук) на Touch Bar выполняются медленнее. А вот отсутствие физической клавиши Escape, на наш взгляд, критика переоценивает: в MacOS она используется редко.



Справа от OLED-панели находится механическая клавиша включения с интегрированным биометрическим датчиком. Последний служит для авторизации онлайновых платежей через Apple Pay и входа в ОС (наряду с двумя другими способами — паролем и Apple Watch).
Любопытно, что рендеринг изображений и регистрацию ввода на Touch Bar обслуживает выделенный чип Apple T1, который представляет собой не что иное, как процессор из SiP Apple S2 (см. Apple Watch Series 2), а его ПО является упрощенной версией WatchOS, запускаемой с RAM-диска объемом 25 Мбайт. Интегрированный сопроцессор Secure Enclave в T1 образует защищенную прослойку между ОС и тремя управляемыми им устройствами — Touch Bar, сканером Touch ID и веб-камерой. Кроме того, экранные диалоги Apple Pay в целях безопасности целиком отрисовываются на T1 и доступ к хранилищу паролей Keychain тоже происходит через чип.
⇡#Экран
Разрешение LCD-панелей в MacBook Pro не выросло (2560 × 1400 и 2880 × 1800 для экранов 13,3 и 15,4 дюйма соответственно), но есть другие изменения: увеличенная яркость (300 до 500 кд/м2) и покрытие цветового пространства DCI-P3. О последнем пункте пора поговорить подробнее, чем мы когда-то сделали ранее в обзоре iMacкоторый приобрел поддержку DCI-P3 первым среди продуктов Apple.
DCI-P3 — стандарт, пришедший из киноиндустрии, он отличается от sRGB прежде всего диапазоном оттенков. Из базовых компонентов DCI-P3 устанавливает такие же координаты синего, как в sRGB, но обеспечивает более насыщенный зеленый и монохроматический красный цвет. По площади покрытия различаемых человеком цветов DCI-P3 сопоставим с Adobe RGB, но уступает последнему в зеленой области и превосходит его в красной.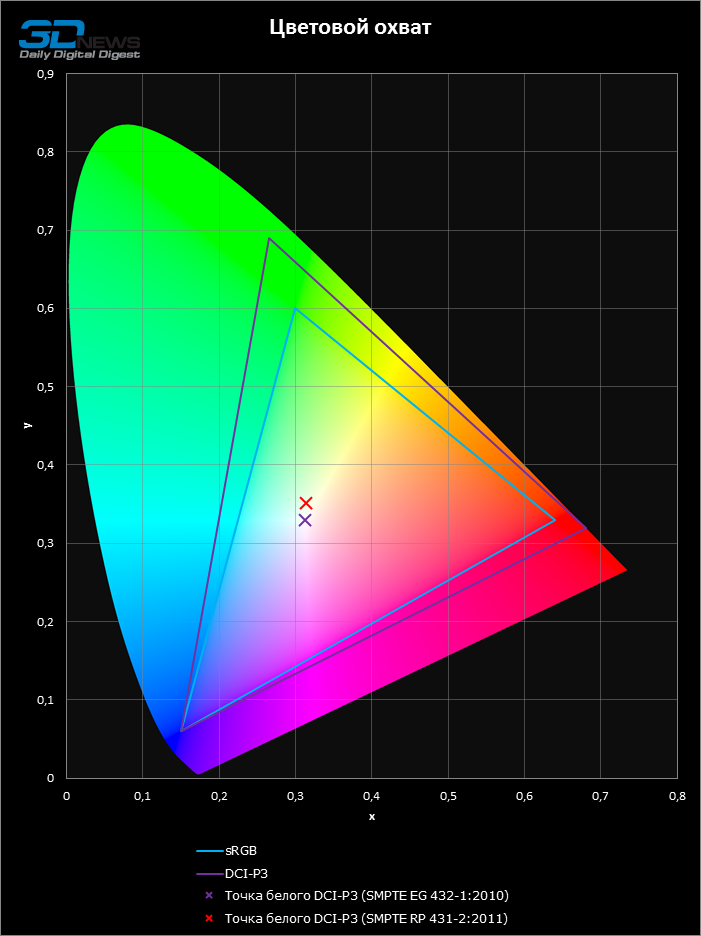 Однако спецификации DCI-P3 не сводятся к цветовому охвату и содержат среди многих прочих такие параметры, как координаты белой точки и гамма-коррекция. Два документа, принятых SMPTE (Society of Motion Picture and Television Engineers), предполагают различные настройки для студийной обработки контента (EG 432-1:2010), с одной стороны, и кинопроекторов, с другой (RP 431-2:2011). Поэтому, говоря о поддержке DCI-P3 в том или ином устройстве, нужно уточнять, что именно имеется в виду. Кинотеатральная версия стандарта включает гамма-коррекцию 2,6 и белую точку с выраженным зеленым оттенком, в то время как студийная — гамму 2,4 и белую точку дневного света, D65.
Apple выбрала именно студийный DCI-P3, который лучше всего подходит для потребительской техники, а гамма 2,4, к слову, использовалась в «Маках» еще до дисплеев с DCI-P3 — в отличие от гаммы 2,2, характерной для Windows. Параметры дисплея не мешают MacOS корректно воспроизводить изображения, созданные в других цветовых пространствах, благодаря системе цветокоррекции ColorSync в MacOS (картинки без отметки цветового профиля она рассматривает как sRGB).
Что касается самой матрицы MacBook Pro, то о ней пока мало что известно помимо того, что подложка сделана из обычного аморфного кремния, а не IGZO, как в iPad Pro. Но, по слухам, к концу 2017 года начнутся массовые поставки подходящих панелей и следующее обновление принесет эту технологию в MacBook Pro, тем самым увеличив энергоэффективность и/или яркость экрана. Для подсветки Apple наверняка использует синие светодиоды, покрытые красным и зеленым люминофором, как это уже было в iMac с расширенным цветовым охватом.
К экрану MacBook Pro у нас возникла только одна претензия — компьютер поддерживает вывод цвета с точностью 10 бит на канал на внешние мониторы, но внутренний интерфейс остался 8-битным.
⇡#Внутреннее устройство
По расположению компонентов в корпусе 13-дюймовый MacBook Pro с Touch Bar повторяет более крупную модель, с поправкой на иные размеры и количество секций аккумулятора. Но легко заметить, что если в ноутбуке с экраном 15 дюймов решетки по бокам от клавиатуры действительно накрывают динамики встроенной акустики, то в 13-дюймовом это лишь декоративный элемент, а звук исходит из вентиляционных прорезей в днище.
| | | |
| --- | --- | --- |
| |   | |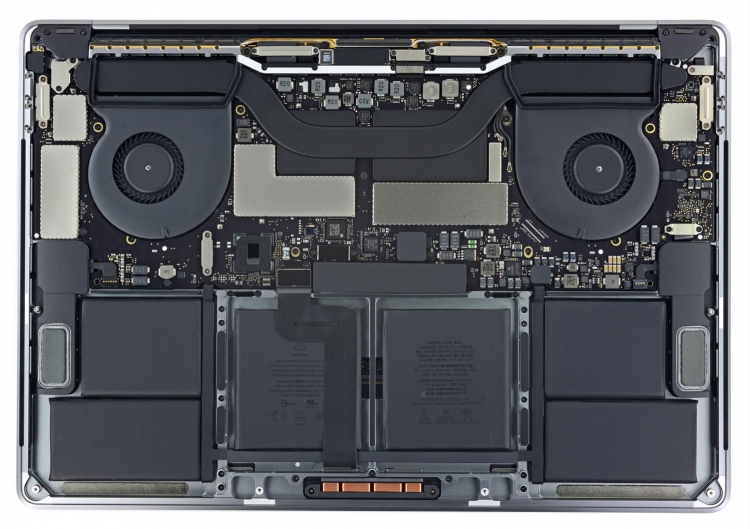 13-дюймовая модель с функциональными клавишами, как и ее предшественница из прошлого поколения (MacBook Pro with Retina display 2015 года) обходится одним вентилятором охлаждения, но, как ни странно, в некоторых отношениях устроена более удачно, чем аналог с Touch Bar. В ней немного увеличена батарея, а с нижней крышки убрали вентиляционные отверстия и динамики работают через решетки по бокам от клавиатуры. Кроме того, именно свободное место, которое в других моделях занято вторым вентилятором, позволило сделать SSD заменяемым, хотя все еще непонятно, почему Apple воспользовалась этой возможностью, в то время как для более дорогих ноутбуков распаянный на материнской плате накопитель был признан приемлемым решением.
* Фото iFixit.
If you notice an error – select it with the mouse and press CTRL + ENTER.